Breadcrumb for Confluence Server & DC
Breadcrumb displays the current page tree path with respect to the home page.
Clicking on Breadcrumb you can navigate to the parent page and all the way back to the home page.
When your Confluence space has lots of child pages organised into different parent pages, adding this macro will help you trace its position with respect to the homepage.
The Breadcrumb macro can be placed anywhere on a page.
Table of Contents
Installing Breadcrumb for Confluence
Log in to the Atlassian Confluence instance as an admin or a system administrator.

Choose  Cog > Manage Apps from the menu. The Administration page will display.

Click the Find new apps link.

Enter the search text "Breadcrumb" in the search field. The appropriate add-on version appears in the search results.

To install the add-on, click the Buy now or Free trial button. 
A confirmation message and details appear when the add-on is installed successfully. Follow the prompts to apply the appropriate license.
Using Breadcrumb for Confluence
From the editor tool-bar (page must be in Edit mode) select Insert more content > Other macros. Here the user can search and select from the list of installed macros by typing in 'Breadcrumb'. 

Select Breadcrumb.

Complete the configurable properties - described below.

Select Insert to add the Tile Container on the page.
Configuration
There are four properties that could be configured while editing this macro:
Space Home Page Label. Used to set a label other than home page title. If left empty space home page title will be applied while rendering the page.

Crumb Divider. Used to set a divider string . Default is '/'

Breadcrumb Label Used to print a text preceding the entire breadcrumb . For example: You are here: 

Exclude Pages Directory Selected by default, this property removes 'Pages' from the breadcrumb path. Deselecting it would include and add the Page Directory link (breadcrumbs.collector.pages) to the beginning of the breadcrumb.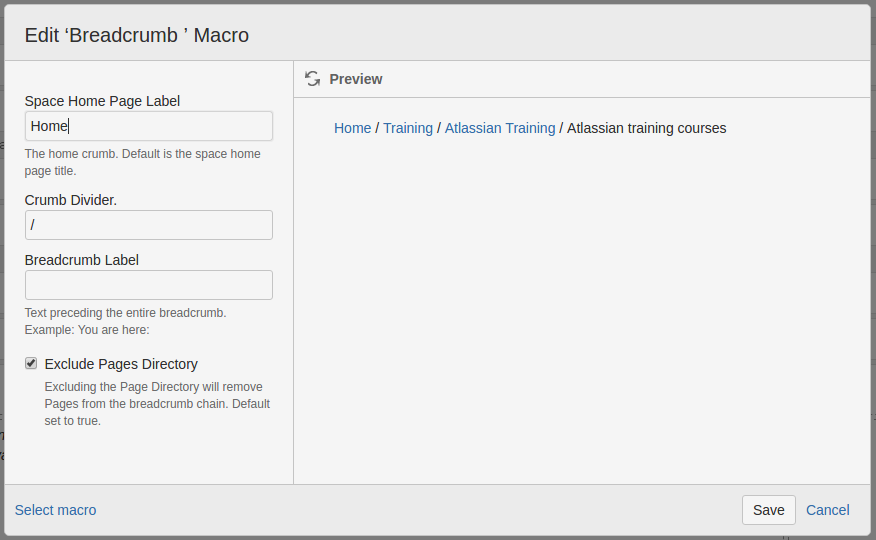 Other Links